8. Roll screens or Winding jabara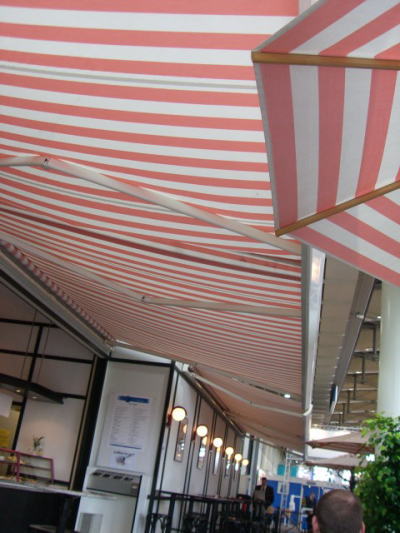 Roll screens and Winding jabara
As a form of tents to shield wind, rain and sunlight and also as a substitute for curtains/blinds, roll screens or jabara with winding mechanism are used. Spring-driven or motor-driven winding mechanism is particularly effective when storing space is limited, or it has to be quickly put away.
The roll screen is used for blind on the windows of the coaches of the Shinkansen super express trains in Japan and also for the cover of high-speed machine tools or cutting tools, shielding chips. The roll screen is widely used in our daily lives for example projection with OHP or other types of projectors for presentation.
Although the roll screen slightly deviates from the concept of folding, it may belong to the jabara family in terms saving space for storage. Material of the roll screens may require shielding light, being inflammable, self-extinguishing and also chemical-proof.   
Now let us take a look at jabara in relation to light path or those used in the light path.