5. Origami (Jabara-fold)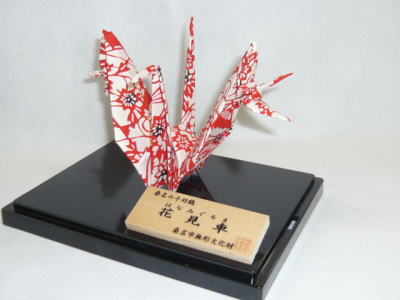 Kuwana's Orizuru
Origami is the traditional Japanese art of folding paper into various decorative or representational forms as of animals and flowers. Orizuru (folded crane) is a most popular form of origami in Japan. There are various views on the origin of origami; China, Japan and Spain. Development and fusion of the paper folding craft in each locality has brought it up to the height of art, full of human touches.
Jabara-fold is a way of folding a sheet of paper to have threads and roots in equal width. This method is presently used in sunshades that replace curtains and blinds and also in covers for machineries and filters.
Origami recently takes steps from the traditional art to modern origami engineering, developing folding tops of a spaceship (cyclone type) and a method of folding and unfolding inside a narrow ship (Miura-fold). Potentials and practical usages of origami are now under study at some universities.
At Ground-Zero memorial park in New York and A-bomb memorial park in Hiroshima, senbazuru (a thousand cranes) sent from Japan and elsewhere are put on display. Orizuru (folded crane) is one of the most popular of origami, and as the bird being a symbol of long life in Japan, local people would make as many as a thousand paper birds to pray for recovery from illness, long life or peace and harmony.
Incidentally, the oldest book on origami as a play was published back in 1797 at Kuwana, central Japan under the title "Hiden-senba-orizuru (book of secrets on a thousand folded cranes), which is now an intangible cultural property of the city.   
Now let us take a look at the bellows that have protective function.